公開日 2021年05月21日
更新日 2021年05月21日
This series follows English teacher Bethany Johnson (Canada), living in and exploring the countryside of Sanagochi.
Sanagochi's Strawberry Jam and Canada's Whole Wheat Bread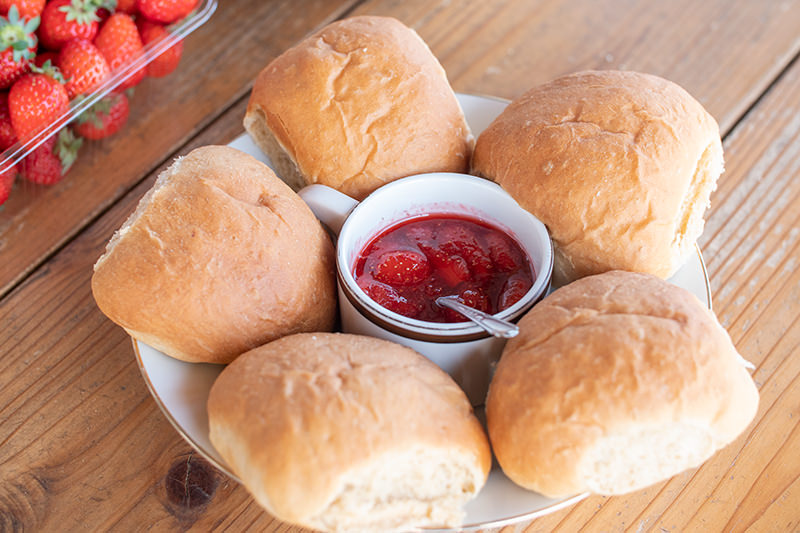 Sanagochi is known for raising sweet and delicious strawberries. All over Japan, strawberry season begins in the winter, but because of the cold, they are cultivated in greenhouses as early as December.
The glow of the greenhouses light the village at night. I'm always amazed at the work and energy that goes into growing these pristine strawberries; the village's pride. I always look forward to Sanagochi's strawberries, but in winter, they're quite expensive, so I'll admit I usually wait until their price drops in the spring.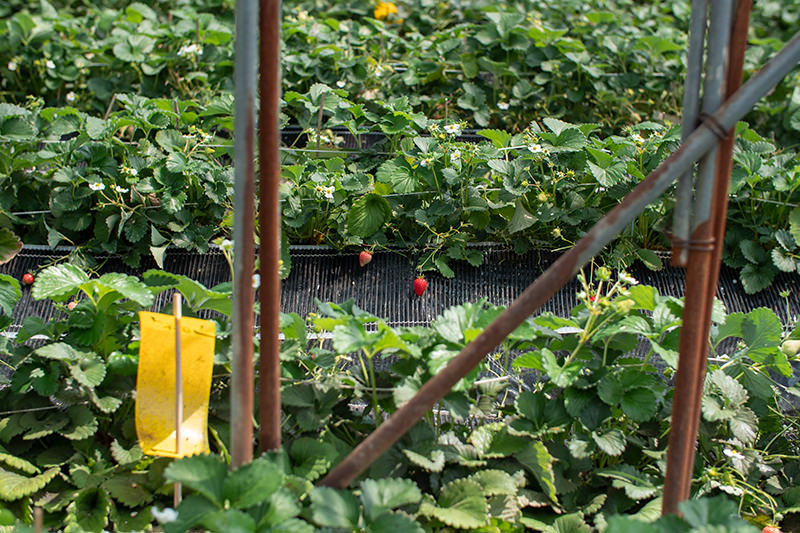 By May, the strawberry season comes to an end, but there are a lot of berries left over. During this time, we visited the Tominaga family's strawberry farm to learn more about these sweet berries, and the proper way to pick them. We collected a lot, more than we could eat, so we decided to make jam! Jam-making is a common practice in the countryside; it's a great way to use leftover fruits, and you'll often find strawberry, kiwi, or orange-flavoured jams sold at the village market, depending on the season. But I had never made jam myself, so I asked my friend Rie Tominaga to show me how.
How to make strawberry jam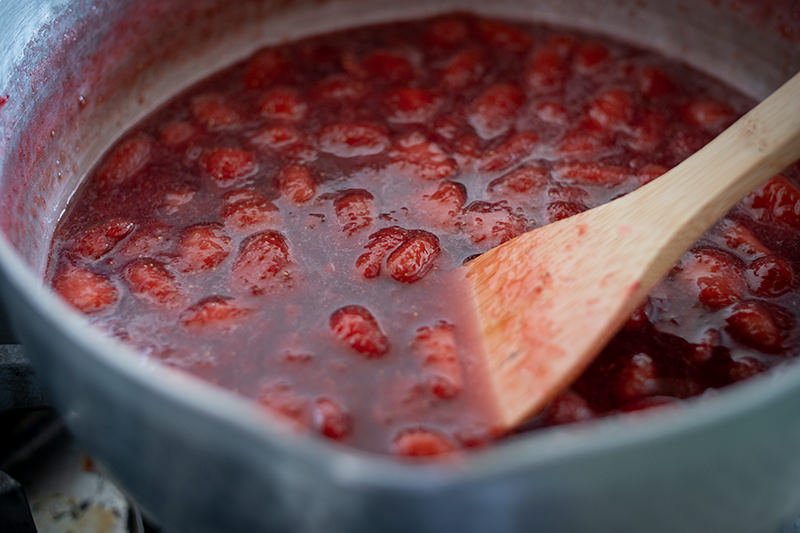 It's surprisingly simple! After washing the berries, crush them, then mix with fresh lemon juice and plenty of sugar. Heat the mixture on low. Be careful not to raise the heat too much, and keep stirring so it doesn't burn. A white foam will appear as the jam is heated. This layer of scum is from the sugar; remove as much as you can using a ladle or a spoon. Afterwards, leave the jam to cool; the longer it settles, the better the texture and flavour.Fresh jam lasts only a few weeks, so try to eat it as soon as possible!
Bread from Canada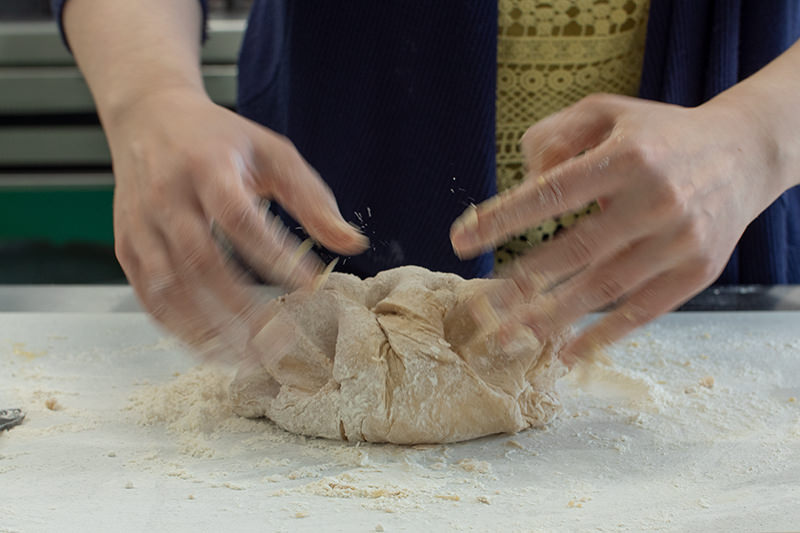 Since the villagers taught me to make jam, I decided to return the favour by baking some fresh bread.
Japanese people often ask me, what's the staple food in Canada? What is Canada's "rice"? They assume it's bread, and they're right. The bread we consume comes in a large variety, such as breads made with whole grains, seeds and nuts, and other protein-rich ingredients. Here in Japan, people have more of a taste for white bread; plain, sweetened white bread. Or dessert breads, like sweet bean or cream-filled buns.
To Canadians, Japan's way of eating bread is like how we eat rice. We never eat it plain, and we commonly add soy sauce. Alternatively, we like our bread less sweet, plainer, but with a little more substance and nutrition. The lack of flavour is supplemented by the food we eat it with; for example, plain bread is best for a flavourful egg sandwich, or for dipping in a hearty stew.
My favourite kind of bread is called whole wheat; it's baked with whole grains, too, and full of nutrition. Whole wheat bread in Japan tastes a little different from what I know, so I've taken to making my own bread at home.
I decided to share a simple dinner roll recipe, a type of bread we eat during gatherings and celebrations, like Christmas and Thanksgiving. They have a fluffy and pleasant texture, and are often eaten with butter, filled with meat, or dipped in gravy.
The rolls I made were a mix of whole wheat and white flour. This recipe is very versatile, and you can add crushed nuts or seeds in, as well. It's made with yeast, so it can be time-consuming, waiting for the yeast to activate. But it actually improves the flavour and texture, I think. You'll start by activating the yeast with warm water and sugar. Leave it until it's bubbly, about 5 minutes, then mix in the oil, softened butter, salt and flour. Alternate adding one cup of white flour, then one cup of whole wheat as you stir. Mix the dough until it isn't sticky.
Now it's time to knead! I usually knead the bread for about 7 minutes. It seems like a lot, but I prefer kneading it the old fashioned way to using a machine. The longer you knead the bread, the more the gluten strengthens, improving the texture of the end result. However, overkneading will make the bread too hard, so be careful!
After kneading, let the dough rise in an oiled bowl for about twenty minutes. It should rise to about double its size. If the room is too cool, it may take longer. Once doubled, punch the dough down and knead again for another minute. Then let the dough rise a second time. I usually leave it for an hour.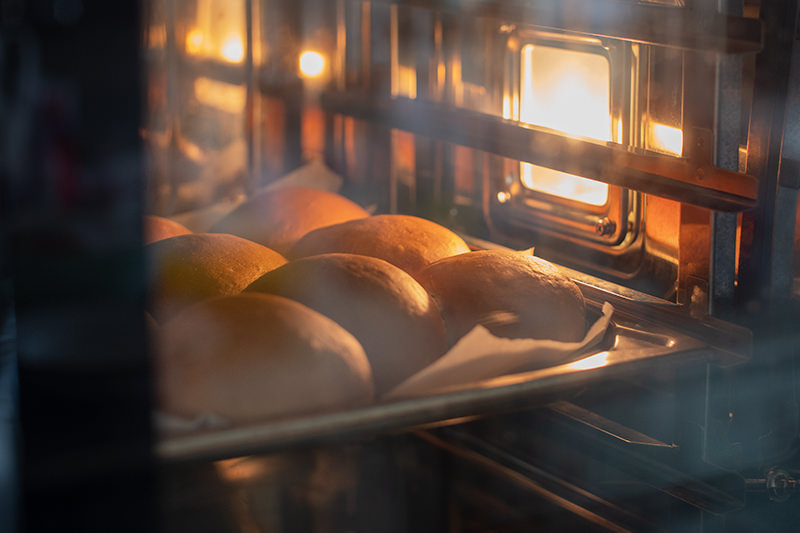 Once it's risen, you're ready to shape the dough. Tear off small pieces and shape them into balls of the same size. Line them up on a pan with wax paper, and brush lightly with milk before baking for 10 to 12 minutes. If you're baking with a microwave oven, it's better to double the baking time.
All done! Nothing beats freshly baked bread! And it paired especially well with the strawberry jam we made.I'm glad I could share a little bit of home with the people of Sanagochi; and I hope to keep doing so, little by little, from here on out!
Recipe for Simple Dinner Rolls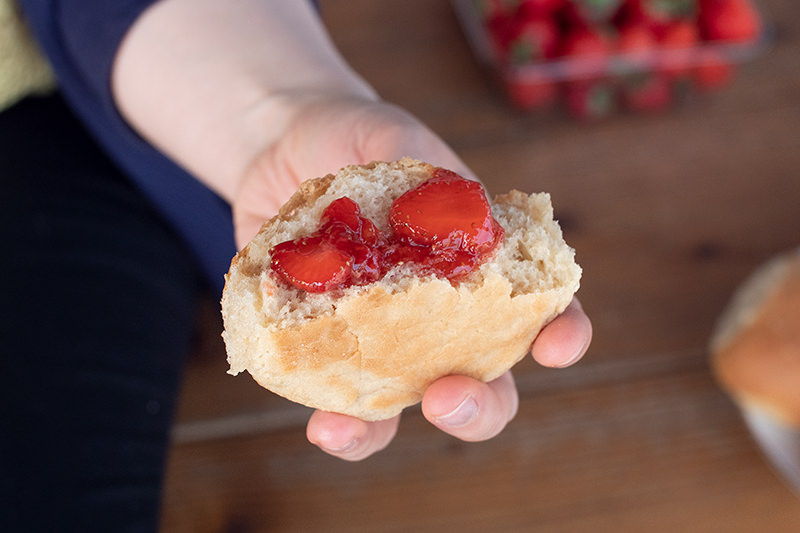 Ingredients →
1 cup warm tap water

1/3 cup olive/vegetable oil

1/4 cup sugar

2 tablespoons yeast

1/2 teaspoon salt

1 egg, beaten

1 tablespoon softened butter

2 cups whole wheat flour

2 cups white flour (alternate adding white and whole wheat flour, little by little as you mix)

1/8 cup milk, room temperature (for brushing the dough before baking)